Website developed in partnership with SEDIS is launched by PROGESP / UFRN
30 de November de 2018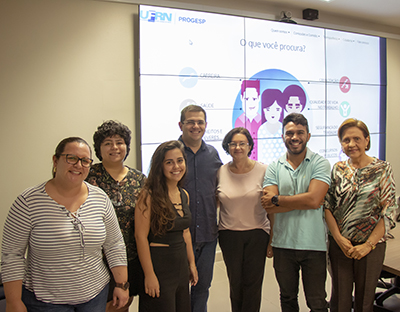 The Federal University of Rio Grande do Norte (UFRN) has launched the new website of the university's planning and administration agency Friday, 30th, at the end of the morning. The event was held in the Superior Colleges Room, in the Rectory building.
The Deputy Director of People Management, Miriam Dantas dos Santos, The second, the commitment of the UFRN Distance Education Secretariat team was fundamental to the realization of this project.
For the Technical Technician of PROGESP, Joad Cortez Gomes, the site became more dynamic and concentrated, instead of space, the services of attendance to the servants and the administration of UFRN. Regarding the site, according to him, took into account aspects of responsibility, clarity and purpose in the information made available.
The Secretary of Distance Education of the UFRN, Carmem Rêgo, highlighted the role played by SEDIS, which sometimes gave opportunities, having contributed to the execution of unit demands of the university, and all creative team at the disposal of the projects of collective interest.
During the launch, the Angolan UFRN's Rector, Ângela Paiva, recalled that the university is among the 80 best in Latin America and that the children have as objective to collaborate with the Magazine Project Management.
The site is already up. To access it, simply type <http://progesp.ufrn.br/>.
Category: Novidade