ESUD 2021 schedule will feature researchers from around the world
7 de October de 2021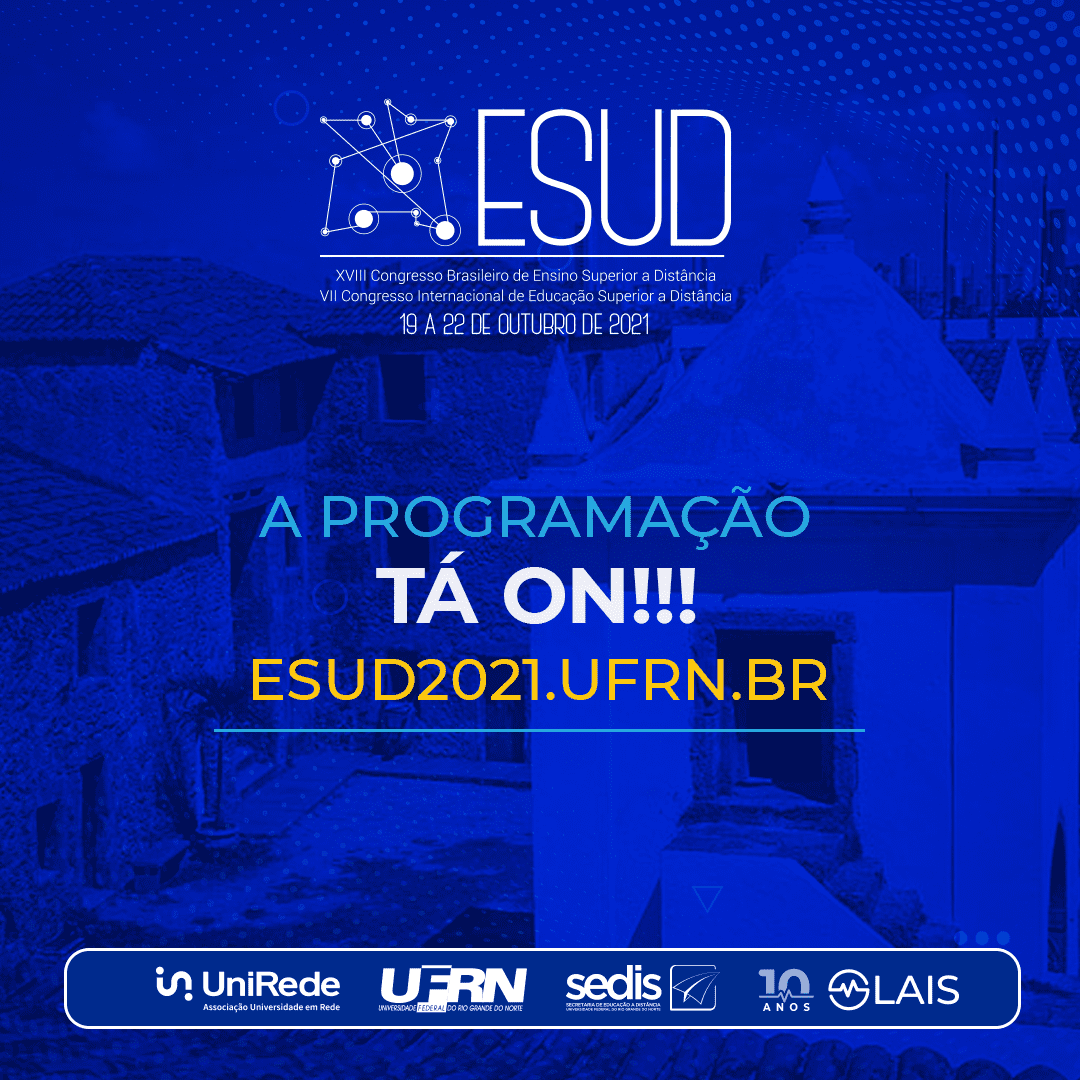 Natal lives the expectation of being, once again, the international capital of Higher Distance Learning. The city will host, simultaneously, the XVIII Brazilian Congress on Distance Higher Education (ESUD) and the VII International Congress on Higher Distance Education (CIESUD) promoted by the Associação Universidade em Rede (UniRede) in partnership with the Federal University of Rio Grande do Norte (UFRN), through the Laboratory of Technological Innovation in Health (LAIS/UFRN) and with the support of the Department of Distance Education (SEDIS/UFRN).
The simultaneous events will take place from October 19 to 22, 2021, but the meetings of the Forum of Coordinators of the Open University of Brazil Program, LAIS/UFRN researchers and UniRede members, have already started in the pre-event, scheduled for the October 18, 2021. As we are still in the context of the covid-19 pandemic, the congress organization decided to keep ESUD 2021 and CIESUD 2021 in 100% online versions, opening the possibility for only speakers, who choose to be in person, come to Natal.
This year, the theme that will guide the discussions is "Education, Technology and Social Resilience: what we learned from the pandemic". For this reason, researchers from around the world were invited to discuss how the challenges faced since March 2020, when the World Health Organization decreed the pandemic, served as a learning curve for resilience in technology-mediated teaching and learning processes.
The schedule is now available on the event's website. Guest speakers include Heini Utunen, a researcher who is part of the World Health Organization's Emergencies Program for Learning and Capacity Development; Andreia Inamorato, researcher and consultant in the areas of open educational resources (OER) and educational technology, working at the European Commission; and Esther Giménez-Salinas i Colomer, honorary president of MetaRed (a collaborative project that forms a network of networks of heads of Information and Communication Technologies at IES Iberoamericanas).
Entries are in the 3rd and last batch and can be made until October 20, 2021. The entry fee varies from R$50.00 (fifty reais) to R$240.00 (two hundred and forty reais), depending on of the entry category. More details about the registration and the schedule can be found on the website <https://esud2021.ufrn.br/>.
Bruno Cássio – ASCOM SEDIS/LAIS/UFRN
Category: distance education, event, News, partnership, remote teaching, special, technology-mediated education, UniRede