SEDIS collaborates with updates of the PM / RN Virtual Learning Environment
19 de October de 2020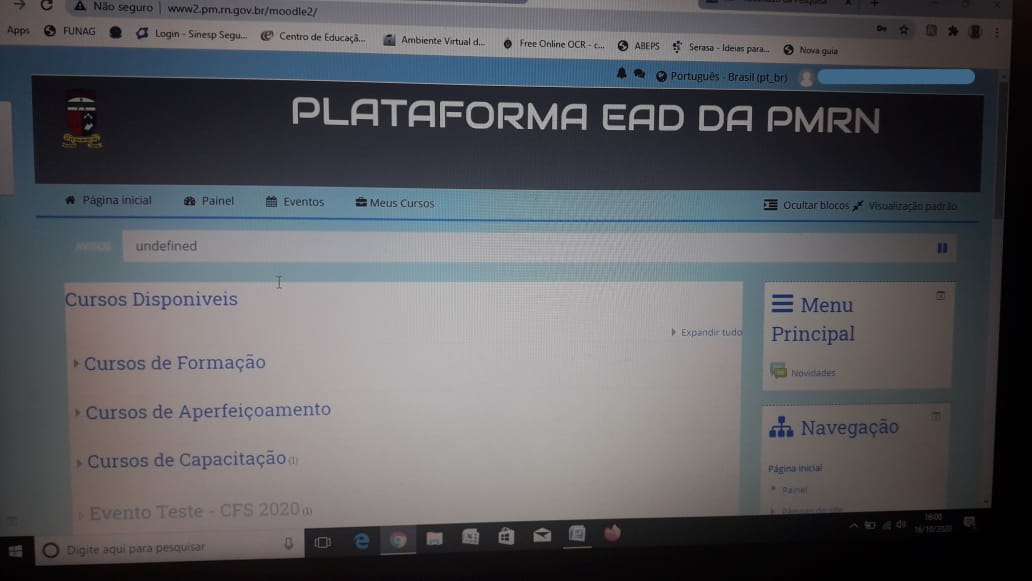 The Distance Education Secretariat of the Federal University of Rio Grande do Norte (SEDIS / UFRN), created in 2003, plays an important role in the promotion of distance education and in the use of information and communication technologies for teaching and learning. This attribution goes beyond the walls of the University and attracts the interest of several institutions. The most recent was the Military Police of Rio Grande do Norte (PM / RN).
At the beginning of the covid-19 pandemic, virtual contacts began to be established and with the support of UFRN's Secretary of Distance Education, Carmem Rêgo, the SEDIS Information Technology team was made available to the PM's Teaching Directorate / RN to collaborate with some updates to the Corporation's Virtual Learning Environment (VLE). The AVA of the PM / RN is based on the Moodle platform that allows the customization of the functionalities, according to the needs of the users.
Distance Learning at PM / RN
SEDIS has great expertise in the use of this platform and in the development of several AVA's. According to the Cadet of the PM / RN, Regivaldo Sena da Rocha, this motivated the search for this technical cooperation. For the Auxiliary Manager of the AVA Moodle Platform of PM / RN, "the exchange of experiences and the guidance given by SEDIS were extremely important for the continuity, development and improvement of this platform".
Distance education has presented itself as an important tool in the training of state military police. In August 2020 alone, 831 students completed the Sergeants Training Course. Another 600 are in the process of being completed at the Military Police Training and Improvement Center (CFAPM). Another qualification opportunity, offered in the distance modality, is the Training Course for Unmanned Aircraft System Operators.
Recognition
According to the Network Administrator at SEDIS, Artur Nobre, information about the specific settings and behaviors of the AVA was given, "as the doubts arose, the SEDIS team came forward to resolve them", he clarified. Pedagogical guidelines were also shared for the better use of the Virtual Learning Environment.
On October 13, 2020, the partnership developed was recognized by the Education Directorate of the Military Police of Rio Grande do Norte. When forwarding a letter to the UFRN Rectory, gratitude was registered for the commitment of the SEDIS team in training on the use of the PM / RN AVA and the availability to provide technical support throughout this process, opening the door for future collaborations.
Bruno Cássio – SEDIS / UFRN Media Sector.
Category: distance education, News, Novidade, partnership, UFRN