Professors from the Open University of Portugal know areas of SEDIS
12 de April de 2022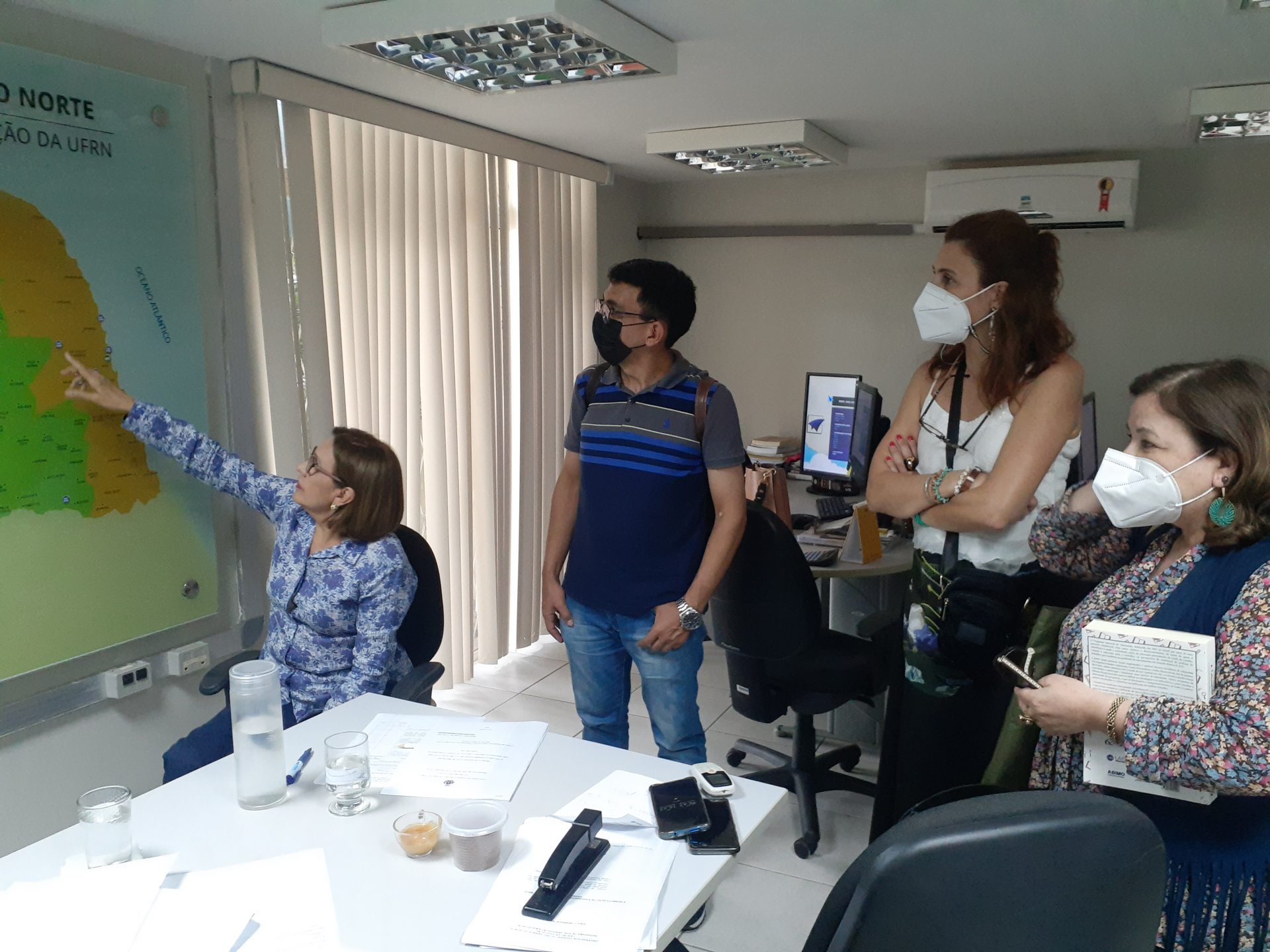 Professors from the Open University of Portugal, Cristina Vieira and Natália Ramos, visited, on the afternoon of Monday (11), the facilities of the Distance Education Department of the Federal University of Rio Grande do Norte, in Natal. The Portuguese professors came to Brazil to participate in the 3rd International Health Innovation Conference, which took place from April 4th to 7th in the capital city of Natal, and took the opportunity to get to know SEDIS.
During the visit, the Secretary of EaD/UFRN, Carmem Rêgo, highlighted the operation of the centers, distributed throughout the metropolitan area of Natal and the inland cities of Rio Grande do Norte. According to Carmem Rêgo, there are many similarities in the actions developed by the two institutions that have technical cooperation, because both work with Distance Learning, but in the case of the courses offered by UFRN, there is a peculiarity, emphasizes the manager, besides the synchronous and asynchronous activities in the Virtual Learning Environment, there are face-to-face meetings.
Accompanied by the coordinator of the International and Interinstitutional Relations Center of LAIS/UFRN, Juciano Lacerda, the visitors learned about the main actions developed by SEDIS, such as the production of content for AVASUS courses; the editing of audiovisual products; the publishing of printed and electronic books; the adaptation of materials for students with specific educational needs; the formatting of video classes, with interactive resources, for EaD undergraduate courses; and pedagogical support for students, tutors and teachers.
Cristina Vieira and Natália Ramos thanked the receptivity and talked about the relevance of the teamwork developed by SEDIS to strengthen distance education. The UAb/PT teachers return to Portugal on Tuesday (12) with excellent experiences in their luggage and the possibility of expanding existing partnerships.
Bruno Cássio – Communication Advisor of SEDIS/UFRN
Category: News, Novidade, partnership, remote teaching, technology-mediated education, UFRN