EaD Math and History graduates celebrate academic achievement and highlight dedication to studies
9 de December de 2021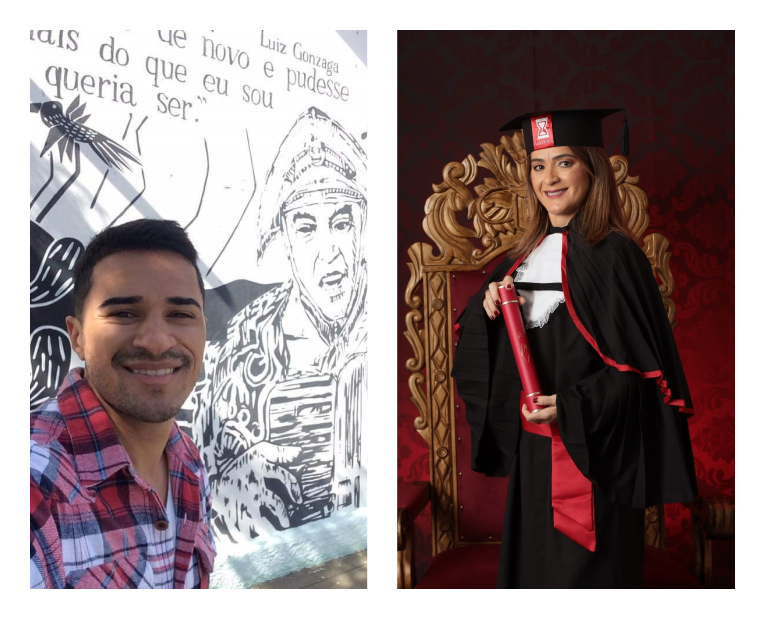 At the age of 32, José Gilberto Targino de Medeiros, from Altamira, Pará, found in the Seridó of Potiguar the ideal place to accomplish a life goal: study Mathematics. He lives in Tenente Laurentino Cruz, known as the highest city in Rio Grande do Norte, about 40 kilometers from Currais Novos, where the distance learning course he completed is linked to. The graduation ceremony took place on November 11, 2021 and was marked by an unforgettable moment.
Even though it was a virtual ceremony, being far from classmates, relatives and friends didn't diminish the joy of winning the academic laurel, an honor granted by the Federal University of Rio Grande do Norte (UFRN) for good performance throughout the course: "I took this course very seriously. I dedicated myself, I invested money in good math books, I wanted to, I did, and all of this was the result of many hours of study. I felt emotion and gratitude to God for everything".
José Gilberto recalls the motorcycle trips he used to make to the Currais Novo campus: "many times I got rained on the way and got all wet, but happiness was and is still in me, because I was concluding a kind of dream and goal, at the same time, which was to graduate in Math". José Gilberto also talked about his perspectives for the coming years: "my biggest dream is to get a PhD in Mathematics and be a university professor. I'm not going to stop.
The history of DE
"Taking the History course was the realization of something I had dreamed of since the early years of my school life, because it was one of the subjects I most identified with. Today, I can say that distance learning graduation is a reality in our country and that UFRN provides quality education for those who choose to take its distance learning courses." With these words, Maria Cintia Xavier Queiroz described the experience of taking distance learning history courses at the Presidente Support Center in Martins, in the upper west of Potiguar.
Maria Cintia says that she and her seven siblings already have higher education diplomas, which, according to the history graduate, reflects the encouragement her parents always gave to her studies. Besides encouragement, EaD graduation requires discipline: "sometimes we let ourselves accumulate content and activities, which is not indicated, because we can't assimilate the content in a useful and efficient way", she points out when talking about the routine of academic activities.
The trajectory in the History course was concluded in a special way, Maria Cintia won the academic laurel and was very happy: "I never imagined I would receive such an honor and, when it was announced, it took me a while to process the information, I confess my eyes watered with joy. This achievement served as motivation to continue studying: "I intend to do some specialization in the area of History Teaching and who knows, maybe even work as a teacher", plans Maria Cintia.
Bruno Cássio – Communication Advisor of SEDIS/UFRN.
Category: distance education, News, special, technology-mediated education, UFRN