Team from the University of International Integration of Afro-Brazilian Lusophony (UNILAB) makes technical visit to SEDIS
4 de December de 2019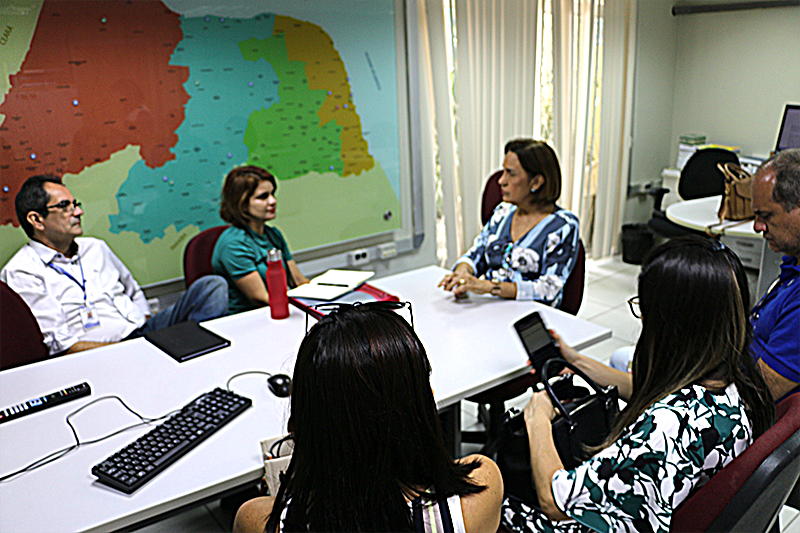 The staff of the Institute of Distance Education (IEAD) of the University of International Integration of Afro-Brazilian Lusophony (UNILAB) came from the city of Redenção, in Ceará, to know closely the work developed by SEDIS in favor of distance education in Rio Grande do Norte. . They were received by UFRN's Secretary of Distance Education, Carmem Rêgo, and SEDIS Editorial Coordinator, José Correia.
The technical visit took place during the morning and afternoon of this Wednesday (04). The delegation was composed by the Director of IEAD / UNILAB, Antonio Manoel Ribeiro, Ana Paula Gomes (Pedagogical Center EaD), Danyelle de Lima Teixeira (Poles Sector) and Márcia Roberta Falcão (Strategic Operational Sector). Visitors could ask questions about the operation of audiovisual equipment and computer programs used in the production of teaching materials.
During the visit, they navigated the Virtual Learning Environment, the Academic Mandacaru, used by students of UFRN distance learning courses, and they heard from SEDIS teams how it is routine to produce content that is published in various formats. . For Carmen Rêgo, it is always good to share UFRN's expertise in this area and to strengthen the free, high quality public higher education support network.
According to the Director of IEAD / UNILAB, Antônio Manoel Ribeiro, this face-to-face contact may result in future partnerships. He made a point of congratulating all the teams that are part of SEDIS for the work done so far and reinforcing the need to keep the channel open for the exchange of experiences and execution of projects.
About UNILAB
The University of International Integration of Afro-Brazilian Lusophony is an autarchy linked to the Ministry of Education, based in the city of Redenção, in the state of Ceará. UNILAB's specific institutional mission is to train human resources to contribute to the integration between Brazil and the other member countries of the Community of Portuguese-Speaking Countries (CPLP), especially African countries, as well as to promote regional development and exchange. cultural, scientific and educational.
In addition to Redemption, the University has physical spaces (academic unit and campus) in the city of Acarape, Ceará and in the municipality of São Francisco do Conde, Bahia.
Source: SEDIS / UFRN Media Sector
Category: distance education, News, partnership