SEDIS and members of the "Syphilis No" Project carry out special programming to warn about the prevention of this STI
17 de October de 2019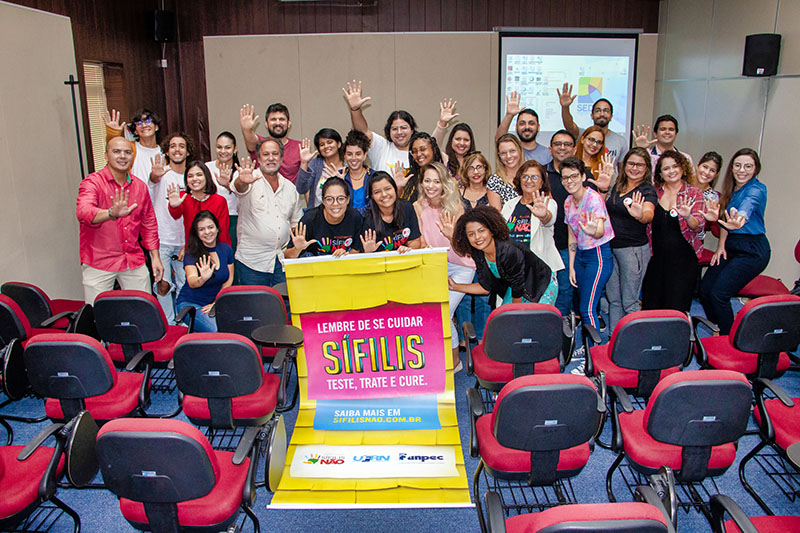 On the morning of Thursday (17), SEDIS collaborators and LAIS researchers participated in a syphilis prevention activity. They attended the lecture of the infectious disease doctor, Monica Bay, professor of the Department of Infectious Diseases of the UFRN Health Sciences Center and researcher of the "Non Syphilis" Project. The expert talked about the cause, transmission, diagnosis, treatment, cure and preventive measures related to this sexually transmitted infection.
LAIS and Project researcher Juciano Lacerda, who is also a professor at the UFRN Communication Department, took the opportunity to talk about the communication strategies employed to raise awareness about this health problem. Outside the SEDIS auditorium, a team from the university's Center for Collective Health Studies, coordinated by nurse Celeste Rocha, performed the rapid testing for Syphilis.
The initiative is in line with the provisions of Law 13,430/2017, which requires that the third Saturday of October be reserved for actions related to the National Day to Combat Syphilis and Congenital Syphilis. SEDIS decided to anticipate, for the internal public, the chance to clear all doubts about this IST so that this information can be multiplied.
UFRN's Secretary of Distance Education and Vice-Project Coordinator Carmem Rêgo also did the quick testing and pointed out that such programs are held to arouse people's interest in well-being and health care.
Source: SEDIS / UFRN Media Sector
Category: event, News, partnership