Inaugural EaD Class discusses technology-mediated education
9 de June de 2021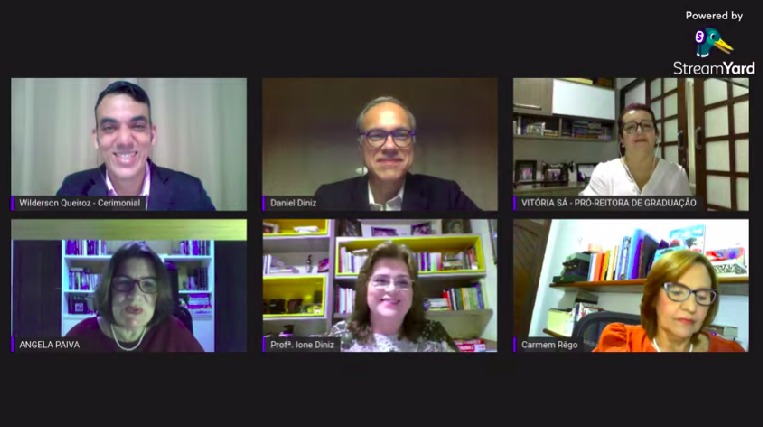 The Inaugural Class of the Academic Semester 2021.1 of the distance undergraduate courses at the Federal University of Rio Grande do Norte (UFRN) took place this Tuesday night, June 8th. With the participation of the dean José Daniel Diniz Melo, the event had the lecture Education mediated by technologies – a way to transform lives and places given by the former dean of UFRN and coordinator of the Augusto Severo Technology Park (PAX), Ângela Maria Paiva Cruz.
The opening of the Inaugural Class of 2021.1 was carried out by the dean Daniel Diniz, when the professor welcomed the new students. The manager also reinforced the importance of discussing the topic technology-mediated education by teacher Ângela Paiva, due to the experience and contributions of the teacher to the area of ​​distance education at the university and in the state.
The Dean of Undergraduate Studies, Maria das Vitórias de Sá, highlighted the joy of having so many EaD students spread throughout RN. The teacher also spoke about the academic calendar and the pedagogical project, in addition to giving guidance on personal expectations and the social role of each one's professional performance.
The EaD/UFRN secretary, Carmem Rêgo, wished the new students a good semester by encouraging them to take advantage of the opportunities offered by the institution, aiming at a quality education. As for the assistant secretary of EaD/UFRN, Ione Morais, the 2021.1 starts in a context marked by the pandemic, but also by the hope with the arrival of new students.
Then, Ione Morais mediated the lecture Education mediated by technologies – a way to transform lives and places, which was given by the former dean of the University, Ângela Paiva, and can be watched on the Sedis on Youtube Channel.
Williane Silva – ASCOM-Rector
Category: distance education, News, technology-mediated education, UFRN