Educator of Caicó wins her second academic laurel after 16 years of her first graduation
15 de July de 2021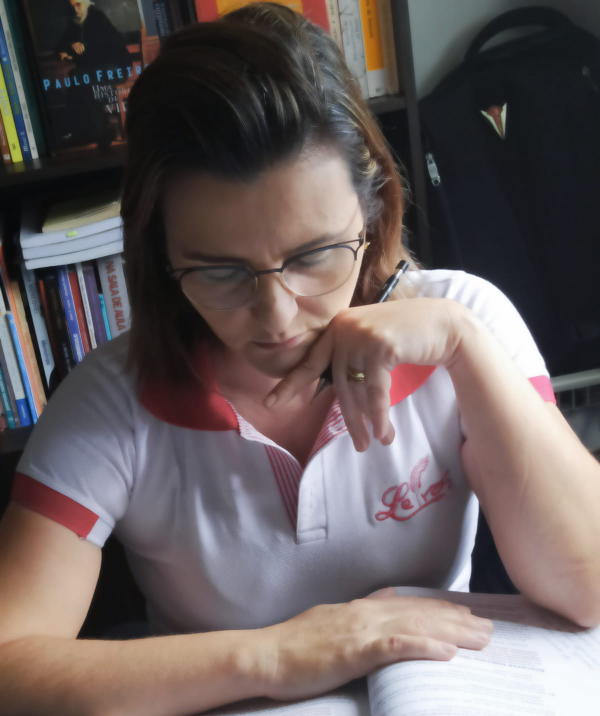 The tears contained since the beginning of the Virtual Graduation ceremony, held last Thursday (08), came to the surface when Fabíola Maria Dantas heard her name being announced, during the broadcast of the ceremony, as a laureate for her good performance throughout of the Licentiate Degree in Distance Learning at the Federal University of Rio Grande do Norte (UFRN) at the Caicó pole.
This was not the first time that Fabiola Dantas had received an academic laurel. When she completed the face-to-face Pedagogy course 16 years ago, she also received this recognition. But the dream of studying Literature and the passion for the Portuguese language remained alive: "there was no Literature course at CERES at that time, so I studied Pedagogy, as I also worked with children and felt called to Education".
The family formed by teachers represented an additional incentive to pursue this goal. At the age of 19, with a young daughter to raise, she started working in a school with children's classes. The school routine and entry into the academic environment only reinforced the certainty that she should pursue her goal. After completing two specializations and at 42 years of age, she was able to say: "I have a degree in Distance Learning Languages ​​from UFRN".
According to Fabíola, reaching the end of the course was not easy, there were weekends and evenings totally dedicated to the course: "I always say that the passion for Literature made me continue without burdens, with three daughters and a double shift as a servant at two schools, I took the entrance exam to see if I could achieve success and here I did".
Amid the covid-19 pandemic and the conclusion of the EaD Literature course at the Caicó hub, Fabíola Dantas found time to undergo the selection process for a Masters in Education at the State University of Rio Grande do Norte (UERN), and was approved. That's when she was forced to close the Literature course, but she was encouraged by the staff at the In-person Support Center in Caicó to continue and it worked.
When talking about the academic laurel, she could not contain, once again, the emotion: "this award, for me, is valuable, not for vanity, but to illustrate to my daughters that it is possible to reconcile the life of a woman, a housewife, professional, mother and student in a sexist, patriarchal and unfair society, especially with the minor majorities".
Bruno Cássio – Media Sector at SEDIS/UFRN.
Category: distance education, News, special, technology-mediated education, UFRN